Have you ever stopped to think about what is hiding inside A/C ducts, bed guardrails, emergency buttons, bedside tables and curtains in the patients' rooms?
We have decided to present you with the three major causes of antibiotic-resistant germs in Israeli hospitals.
Time
First of all, let's begin with the time element, one of the most precious resources of the 21st century. Yehuda Amihai was quite to the point when he wrote: "A person in his life has no time for everything".
Very few institutions allocate the time it takes to perform a task thoroughly from start to finish; after all, we are only human. This also goes for cleaning and sanitizing patients' rooms and operating rooms in hospitals by the medical and support staff. Some hospitals have already come to realize that they have no choice, and in order to maintain patients' health they must conduct continual disinfection of germs using advanced technologies such as the one offered by Clean-Bit Company, which usebinary ionization technology (BIT).
The cleaning crews always aspire to conduct efficient sanitization and disinfection from germs and bacteria that accumulate in rooms but even they, due to lack of time, are forced to take "short cuts" from time to time. One should note that they are always willing to perform the work in the best possible way. On the bottom line, they are pressed to do the work as fast as possible, which inevitably leads to missing or partially cleaning the patient's surroundings.
In view of the above, hospital staff are unable to clean all corners of the patients' rooms properly and thoroughly, particularly in view of the ever-growing demand for hospital beds in Israel. This leads us to the next challenge facing hospital management and staff.
Crowding and overloading in Israeli hospitals
We have all come to read and realize the ever-increasing crowding in Israel hospitals that Unfortunately gets worse from one winter to the next.
The number of patients increases while the number of beds decreases. As a temporary solution, patients are placed in hospital hallways. Overcrowding and various diseases transmitted from patient to patient generate a "germ fest" throughout the hospital.
A Ministry of Health survey shows one out of every ten Israelis treated in a local hospital was placed in the hospital hallway. Hallway hospitalization is one of the foremost causes of morbidity, complications, and mortality. Viruses roam freely in the air when there is no room or closed space that insulates them and stops them from reaching the patient lying in the adjacent hallway bed.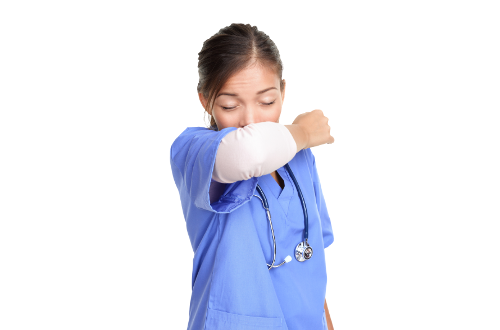 Medical staff, visitors and the human factor in general
The germs that grow within hospital walls are joined by those coming from outside: the nurse who steps outside for a smoke, the physician who just came from home and gave a goodbye kiss to his little son who has a stomach virus, the visitor who brought the patient some food from a nearby restaurant.
Each of the above significantly raises the risk of introducing infection into hospital hallways. Therefore, this factor is entirely up to us. Understanding that we can prevent a patient from contracting an infection is the first stage of prevention. Gloves, disinfectant, coughing into one's elbow instead of one's palm, and other similar habits have to be acquired to ensure the prevention of the next infection.
You ask, why are infections acquired in hospitals? All the above factors are interrelated and facilitate an accumulation of antibiotic-resistant germs. If we look at the disproportional numbers (4,000-6,000 Israelis) of cases in which hospitalization became more and more problematic until it took the patient's life, we must think twice before running to the ER every time we or one of our relatives feel ill.
However, we should always present solutions, not only problems. The road to preventing germs in a way that does not endanger patients is still long, but until then we have decided to be a little more optimistic and offer options that can help you prevent the next infection.
 Training and instructing the medical staff on effective ways of cleaning hands and maintaining a clean working environment
 Posting disinfection procedure signs in hospital hallways and rooms
 Internal inspection and sample collection by hospital infection prevention units
 Detecting germs by using florescent gel
 Placing stations with disinfectants at the entrance to the hospital to be used by visitors
Long-lasting disinfection and prevention of germs using advanced technologies
Clean-Bit Co. is at your disposal with cutting-edge environmental solutions that provide effective disinfection and cleansing of antibiotic-resistant infections and bacteria.
The SteraMistTM system manufactured by TOMI is a pathogen disinfection system that destroys germ cells. For efficient prevention, sanitization and eradication of spores, Clean-Bit Co. uses the SteraMistTM advanced technology system for community-based disinfection/cleansing, removal of mold, cleaning crime scenes, and controlling odors and mildew. The disinfection method relies on the binary ionization technology (BIT) principle based on hydrogen peroxide.
 Disinfection of spaces in hospitals and medical institutions
 Disinfection in the food industry
 Public transportation
 High-tech and clean rooms
 Research laboratories
Air-conditioning duct disinfection and cleaning
 Residential and commercial buildings
 Educational institutions and kindergartens
 Biological recovery
 Police and fire departments
 Sports and athletic equipment and facilities
Clean-Bit Company – the exclusive distributor of this technology in Israel that operates using the binary ionization technology (BIT) suited to diverse disinfection needs.